Tunin' the motor, like a weekend boater
Thursday, June 12, 2008
PRIMAVERA 2008: Thursday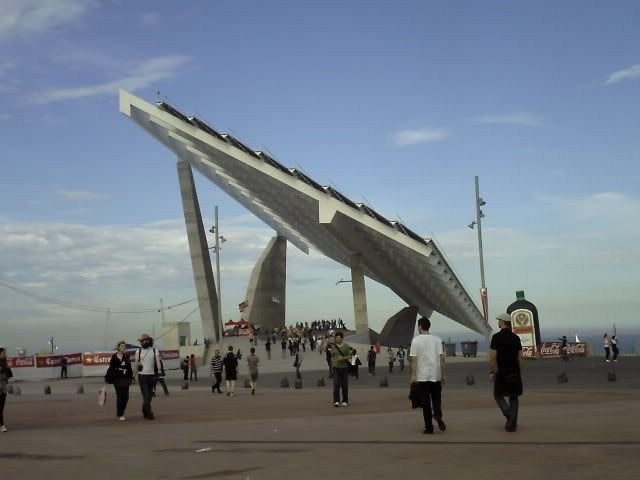 Ok, so I guess I should write some stuff about Primavera…. After all, it was by far the most expensive and exhaustive live music thing I'll be doing this year, and I should probably come up with something a bit more solid than "uh.. it was pretty fun I guess".

I mean, I haven't bothered to approach writing about until now simply because the experience as a whole adds up to a whole seven days worth of travel, and people, and events, and non-events, and food, and exercise, and sleep, and emotions, and non-emotions, and geography, and weather, and boredom, and japes, and alcohol, and non-japes and non-alcohol, and sights and sounds and all the rest of it that goes along with a week of continuous STUFF…. But needless to say, I lack the Henry Miller-like writerly prowess needed to transform all of this essentially humdrum business into gripping, fiery prose of some kind, so, this being a musicblog, I'll stick to the music, but rest assured that I didn't just jet in and watch bands in a critically detached manner for 72 straight hours then go home again.

Note on the photos: I didn't bother to take many myself. Stew took the one above, and I ripped the others off from Pitchfork – hope they don't mind too much (they were taken by Shannon McClean ).

Right!

Primavera takes place at the Parc del Forum, about a 45 minutes walk East from the city along Barcelona's Olympics-ravaged coastline. An imposing complex of purpose-built concrete auditoriums (auditoria? auditori? – you tell me) constructed around a barren heat-trap of a central square, and so initially impressions are somewhat unwelcoming, to put it mildly. I can well imagine the place becoming some desperate Ballardian nightmare come July or August… all empty space and shadows that go on for miles, dehydrated dogs limping across the endless concrete in search of a place to die, lone entrepreneurs huddling 'neath lead-lined umbrellas sipping carefully guarded H2O and contemplating the possibilities for their next boatshow, that sort of thing. But thankfully, Primavera takes place in May when it's cooler, and the brutalism of the surroundings is diffused by throngs of cheery people, SO IT'S OK.

But the festival is also a far bigger, and more corporate, affair than I'm used to. There's one kind of beer on offer, one kind of soft drink, and one kind of spirit (the festival's sponsors, natch). Searches at the gates ensure that the only water available on-site is bottled, costs a Euro, and they twist the cap off for you so you shall drink it straight away, buster. Punters are required to queue to exchange their money for pointless drinks tokens, to queue to exchange Thursday's tokens for Friday's ones, and to queue to buy (yes, BUY) tickets for the sets taking place in the seated indoor auditorium, before they queue again to get into it in time to catch said sets. A giant, diesel-powered inflatable Coca-Cola bottle provides the festival site's clearest visible identifier and natural meeting point.

I know, I know, I'm moaning unduly and accentuating the negative…. I'm sure Primavera is utterly idyllic compared to all those huge European festivals where toilets explode and innocent people get crushed to death etc., but maybe End Of The Road and ATP have given me unnaturally high expectations re: the potential for comfortable and enjoyable alternative music festivals. If nothing else, Primavera is certainly extremely well-organised on a practical level once you've navigated all the queues and shite; the site is clean and friendly, even at 5am after twelve hours of continuous racket and inebriation, and toilet and waste disposal facilities are perfectly decent. Crowd-size is rarely an issue, and the auditorium set-up and unfailingly BIG, BOOMING sound allows latecomers to a set (or those who just want to sit down) to generally get an equally good experience to those down at the front. Throughout the weekend, bands start on schedule almost to the minute, and despite being split across five or six stages, sufficient gaps and easy mobility allow one to check out a wide variety of different stuff, socialise and eat/drink, without having to worry unduly about fencing out a good spot for the next must-see band. Despite my reservations above, it's actually a pretty amazing festival experience once you get used to it, although it should be noted again that it's the high quality of the music and the good feeling of the crowd that brings the fun here, rather than the location or the sponsors.

ATP have called shotgun on what's probably the site's best outdoor stage – it has the best acoustics, is most removed from noise-leakage from the other stages and even has a rare patchy of scrubby grass for people to sit on – and it is here that the festival begins for me on Thursday afternoon with a marathon set from The Microphones / Mt. Eerie. I've always found listening to Phil Elvrum's music to be a slightly odd and draining experience in the past – for the first few songs on any given record, I'm awed into mental silence by the presence of what could well be a singular genius, but as he works his way through one of his (on the whole excessively long) song cycles, the singlemindedness and thematic repetition with which he approaches his application of starstruck spiritual romanticism to minimalist indie-folk inevitably leads to a bad case of diminishing returns. The overall effect is a bit like going to an exhaustive retrospective of the work of Caspar David Friedrich; the first painting you look at will be breathtaking, but by the time you've seen eighteen of them you're likely to just be thinking, yeah, I see - this guy was sad, and looked at the sky a lot, what's next?*

But, for a variety of reasons, this particular Elvrum set proves utterly captivating, a thing of endlessly reassuring beauty that I'm just beginning to sink my soul into when he finally winds it up near ninety minutes after he started. For one thing, he is accompanied for most of the set by the ever-beautiful tones of the eternally awesome Julie Doiron, singing harmony and occasional lead, and a second electric guitarist who plays some gorgeous cosmic blues style drift, creating a far richer and more engaging sonic palette than that of Elvrum-alone. For another thing, their set happens to coincide with a sudden bout of inexplicable washed-out misery on my part, and thus hits the spot perfectly, dragging me out of it like a guiding hand – thanks Phil; your music has done what music is for.

After that I catch a couple of songs by The Notwist, playing on the big, main stage. And, having heard their name bandied around a lot a few years ago but never being sufficiently bothered to check them out, count me pretty damn impressed – this is fantastic stuff, fusing hypnotic krautrock rhythms to blissed out indie guitar/synth textures and big,melodic songwriting like a more muscular take on Yo La Tengo's 'And Then Nothing Turned Itself Inside Out' blueprint – nice!


Eric's Trip
Time enough to make a mental note to get hold of some Notwist records when I get home, and it's time to dash across to another stage to rejoin Ms. Doiron, who is bassing and singing in the recently reformed Eric's Trip (it's a shame Primavera couldn't find the time to schedule a solo set from her too, but such is life). The Eric's Trip guitarist dudes both look like they've just awakened after sleeping on some promoter's couch since 1996, and, muddy festival sound aside, they would seem to be rockin' all the better for it. Although Eric's Trip are sometimes unfairly maligned as a derivative or second-string grunge-era band (the name doesn't help), it must be said that if you are willing to accept college radio-friendly early '90s American alternarock as a genre in it's own right and spend some quality time nestling within the folds of its established conventions (which I certainly am, having been raised on a steady diet of the stuff), they do it as well as anyone ever has, busting out a steady stream of perfect Posies / Teenage Fanclub power-pop augmented with Dinosaur Jr histrionics, heart-on-sleeve Sebadoh lyricism and ripping Dirty-era SY skronk, if you can dig that…. and if you can't, well, good luck to ya. Yes, on one level it's all your indie-rock needs under one roof, but rather than just presenting a cut-price pastiche of their heroes, Eric's Trip are solid guys who feel no shame in playing genuinely great music in within a noble tradition of great music, and they can boast more than their fair share of startlingly affecting songs to go with it, so what else do you need to know? – get down!

At the opposite end of the early '90s cultural sphere, the next thing that hits us is Public Enemy, owning the main stage and reigning over the whole festival complex like benevolent global dictators declaring a particularly furious party-time. Checking back over my Primavera schedule, let it be said that my heart goes out to British Sea Power and The Shipping News, who were unfortunate enough to have been playing at the same time, because trying to make it through a set in competition with Chuck and Flav blasting out 'Bring The Noise' at about a million decibels can't have been much fun.

To be honest, I wasn't particularly bothered beforehand about whether I caught PE or not. I mean, yeah, I, like everyone else in the world, dutifully bought '..Nation of Millions..' and '..Black Planet' back in the day, after hearing the hundredth music journo declare them the best albums in the history of the world, and indeed, it would take a prize fool to try to argue that they don't remain staggering achievements of raw power, sonic invention, furious intellect and righteous spirit, unequalled to this day. But, you know me, for better or for worse I've always been a fair-weather hip-hop fan, and they've always been the kind of band I've appreciated from a distance rather than loved on a personal level. I'd assume a lot of the other people milling about chatting or getting a bite to eat at the top of the auditorium steps as PE take the stage are equally ambivalent, but, as they are about to remind us, 'ambivalent' and 'Public Enemy' are not words that really deserve to be used in the same sentence. For, as my friend Pete succinctly puts it, "oh my god, these guys are fucking SHREDDING!"


Public Enemy
Pete also sagely notes that PE are essentially the hip-hop equivalent of The Ramones in the '80s and '90s, in the sense that no one bar the hardcore fans is ever really going to pay much attention to whatever recorded material they've produced since their 'classic' period, and they know it, but it's on stage that they truly exist, blasting out the finely honed essence of What They Do Best with a near inhuman level of commitment and energy that renders any question of 'new material' laughably irrelevant… why fucking bother, when you've already got two hours worth of tightly compressed, massively amplified greatness that makes even the best of your competitors look like clueless amateurs? Like I say, it's probably about eight years since I last played '..Nation of Millions..' all the way through, but isn't it great how I still know all the words, and how, when Chuck D demands to know what the name of his DJ is, I'm one of several thousand non-committal indie kids ready to tell him at the top of my voice.
Anyway, who else did I go to see on the Thursday…. oh yeah,
Boris
, that's who! They kicked off before our tired eyes and ears at midnight on the ATP stage and they played an absolute blinder. Unlike a lot of the bands playing this weekend, a loud, booming outdoor festival soundmix suits Boris perfectly, and, clearly aware of the FESTIVAL element, tonight they ditch all that drone crap and decide to totally max out the OTT rock cliché moves of 'Heavy Rocks' and 'Pink', and, well, you know the rest: Boris is as Boris does; an overpowering juggernaut of windmilling doubleneck guitar posing, the purple smoke, the swirling black hair, the gong, screechin' wah solos, thunderin' sub-bass , plentiful "Ho YEEe-AAaH!!!", riff after riff cranked through absurd space echo and more Orange cabinets than anybody could ever really need…. too much, man. About halfway through Boris' set, and I swear I didn't imagine this, I'm stunned to see an actual, literal juggernaut – a huge articulated lorry of some kind – emerge from within a few feet of the left hand side of the stage, rumbling off into the night along some previous unnoticed narrow track along the waterfront toward god knows where. A perfect visual metaphor.
Boris
Shortly after all that, we're again sitting on the steps above the main stage, chatting to some friends. Some disappointingly obnoxious bellowing announces the start of De La Soul's set, and, at 2am or whatever this is, I frankly don't care whether or not this dude was on 'Three Feet High & Rising' (which the deliriously poorly translated and typo-ridden festival booklet reminds us hit the scene back in 1889), I can do without him yelling at me for another ninety minutes, so that serves as my cue to call it a night and head home.

Mp3s >

Mt Eerie w/ Julie Doiron – Lost Wisdoms (live at Helm Gallery, Takoma WA, 18/04/08)
Eric's Trip – Sunlight
Public Enemy – Rebel Without A Pause
Boris - Karuso


*This point works nicely as a comparison, but I should make clear that it is somewhat unfair to the works of Mr. Friedrich (one of my favourite painters), who also took the time to paint forests, and rocks, and monks, and ruined churches and all kinds of other gnarly stuff, as well as sky.
Labels: Boris, Eric's Trip, festivals, Julie Doiron, live reviews, Primavera, Public Enemy, The Microphones, The Notwist
Comments:
You have a great music blog here! I've added you to my custom search, check it out.
I've collected over 5,000 mp3blog links, accessible from the alpha menu at page top. You can open frames on these blogs to view them directly on my site, and you can also view the feeds in a frame.
You can search all these blogs in my custom google search:
Rickdog's MP3blog search
http://chewbone.blogspot.com/2008/03/mp3-blog-search-results.html
Post a Comment
Archives