Tunin' the motor, like a weekend boater
Friday, August 03, 2007
A SHORT POST ABOUT LOVE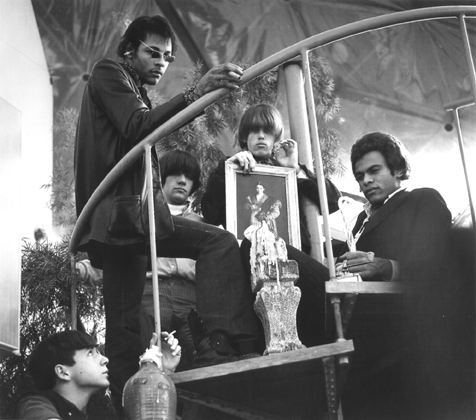 Yes, that's Love with Arthur Lee, not Love the unknowable abstract force that drives the universe onward, so you can breathe easy readers.

It is now one year since Arthur Lee shuffled off this mortal coil and, entirely by coincidence, I find myself more obsessed than ever with the 1966 single that perhaps represents the pinnacle of his group's unique rock n' roll alchemy: the two minute and twenty second assault on the senses that is 7 & 7 Is. It's a tune which I'd assume most of you will already be familiar with, but if not, strap yourself in tightly, and hit the link below:

Mp3 > Love - 7 & 7 Is

Love are of course best remembered today for 'Forever Changes' – an unparalleled masterpiece which crams reflections on paranoia, drug psychosis, collapsing societal values, the blurring of the link between the ego and universe and the vicious chasm between innocence and experience into convoluted, visionary song structures, and yet is somehow routinely written off by inattentive listeners as an example of carefree, summertime pop.

This is not a misapprehension which could ever be applied to '7 & 7 Is'. For whilst much of Love's other significant material hides it's true colours behind conventional folk-rock jangle, soaring melodies and lush, baroque arrangements, '7 & 7 Is' defies any such rationalisation. It represents a different side to the band which was rarely realised on their studio recordings: that of a gang of feral street-punks, contemptuous of all and whacked out of their gourds on everything their record company pay-checks could buy, absorbing the emerging music/drug culture faster than they could comprehend it and, in the form of records like this one, issuing forth mercurial howls of confusion from the heart some acid and speed fried flower-punk netherworld that the squares couldn't even begin to imagine.

For, no matter how many times you hear it in clubs or on compilation albums, '7 & 7 Is' is never normalised. No matter what angle you examine it from, It remains UTTERLY FUCKING INSANE.

As any '60s aficionado will tell you, even the best garage/psyche cuts start to fall into quite predictable generic boxes after you've listened to enough of them, but not so this Molotov cocktail of a record. That amphetamine-crazed mariachi gallop of the drums, setting the pace faster than a sober human brain can easily comprehend..? That completely over-the-top tremolo / reverb / distortion thing on those huge guitar flourishes, like Link Wray caught in some blazing yellow technicolour nightmare..? The frenzied, echoed count-down to a sampled atom-bomb explosion…?? Followed by a totally incongruous tension-release blues breakdown, like some ancient breakout from ancestral memory?! And man, don't even get me STARTED on the lyrics and vocal delivery or we'll be here all day…. never mind why in the hell it's called '7 & 7 Is'.

Needless to say, there is nothing else in the realm of rock n' roll before or since that really sounds much like this. It packs so much invention and pure violence into such a short timeframe, without the reassurance of any kind of logical framework…. the song seems like it's over before it's even begun, leaving listeners reeling; "Did that record actually just HAPPEN, or did something go wrong with my brain…?" Truly warped, street-level psychedelia, forcing synesthesia upon innocents like a hammer between the eyes.

There's a rumour that Love once played a concert where they concluded their set with '7 & 7 Is', and at the song's 'explosion' moment, Arthur Lee pulled out a fake gun and pretended to blow his brains out.

Picture that whilst listening to the song, and imagine what an incredible theatrical moment that must have been! I'd like to think that as his 'body' fell, the band moved seamlessly into the blues breakdown bit and the audience looked on speechless with shock in a moment of weird calm.

And I'll give you another great rumour for yer money too:

Although it's been denied by band members for obvious legal reasons, the story persists that at one point Johnny Echols and Ken Forssi from Love financed their drug habits by carrying out a series of armed hold-ups on donut stalls around L.A.

The press called them "The Donut Robbers".

"The Donut Robbers". Incredible.

BOOM-BIP-BIP, BOOM-BIP-BIP, YEAH!
Labels: 1960s, 7 and 7 Is, Arthur Lee, Donut Robbers, Love, Psychedelia
Archives