Tunin' the motor, like a weekend boater
Thursday, July 20, 2006
Charalambides
The Luminaire, London
8th July 2006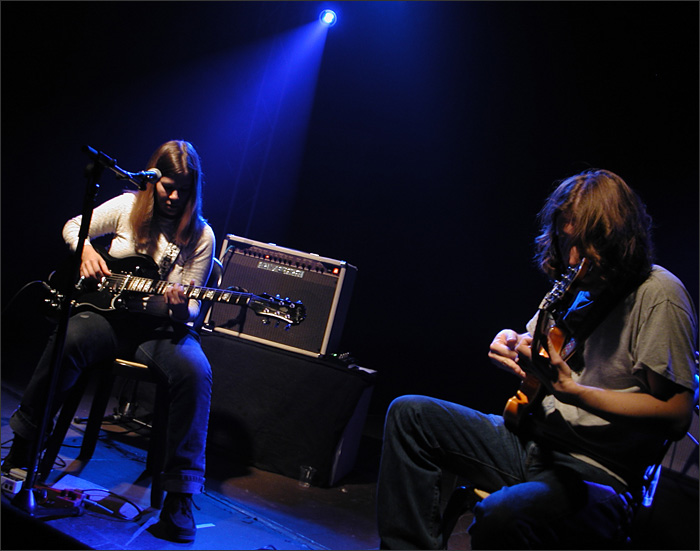 As with so much of the music I like the best, I find it quite difficult to write about
Charalambides
. All the more so now, in light of the frightening grace of the performance Christina and Tom Carter delivered to a sparse crowd in a darkened upstairs room in an obscure corner of our nation's capital a couple of weekends ago.
It was the first time I've really seen the band play (a few minutes at ATP 2004 not withstanding), so comparisons are difficult, but truly, it was a GREAT one. As with any band whose music I'm particularly drawn to, there are certain elements of Charalambides I particularly like, certain things I wish they'd do more and other things I wish they'd do less – y'know how it is. Well every little thing at this performance was just so – I'd find it hard to imagine a better Charalambides show.
So I've been picking over this review ever since, and the eternal question remains; how am I to approach the task of conveying to some limited extent the properties of this lucid, unique music, and the effect it had upon me, within the limits imposed by these humble prison bars of text on a screen?
Well there are several possibilities;
First of all I could dive right in the deep-end, letting rip with the kind of impassioned, expressionistic prose often favoured by certain current writers and publications; do away with factual reportage altogether and take you straight to the heart of personal revelation, inspired tangents etc. I could explore the usage of the word 'psychedelic' as applied to music, it's meaning, it's aims, it's methods, and the ways in which a modern band can apply them in such a way as to rise above the clichés and cut to the very real heart of our lives and emotions, as opposed to adopting the rather easier escapist strategy, gambling off gleefully into overloaded fantasias of blood-drenched mountains, Tibetan kitsch, hyperspace confusion and retro fuzz. For, yes, much psychedelic music aims at attaining escape velocity from earth-bound reality, this we know, and it is fine and good and mighty, but it is not Charalambides. Instead, the Carters keep their feet on the ground and cut slices out of the air around them in search of an internal psychedelic space – a trembling spark of divinity that exists in ourselves and in other people and in the intimate details of the space between the two. A space that from within which we can stare for hours at arrangements of hair, or grass, or sunlight, or skin, or shadow.
I could call upon the image of Aldous Huxley, mapping eternity within the folds of his corduroy trousers. I could talk about getting similarly absorbed in the spaces between long, ringing guitar notes, about disorientating changes of pace between holy inertia and brittle, screaming drama. I could discuss the never fully realised potential of the vibrating, interplanetary guitar tones of the San Francisco ballroom sound, smothered at birth by macho blues blasters but here tonight given free reign at last.
(Pauses for breath.)
But, the thing is, Charalambides' psychedelic space remains – crucially - within the accepted boundaries of human experience, and it is consequently always under threat from brutal, mortal interruptions. Interruptions from change, from time, from drama, from narrative, from basic despair and old fashioned tragedy… and isn't that essentially what we get our kicks from after we awake drooling on the pillow after another no-mind holiday in the land of eternal sustain? So this is why (despite claiming the free/psyche/whatever underground as their chosen home), Charalambides still persist in chipping away at those most uncool of things, SONGS. Simple, devastating, open-ended songs that could last 2 minutes, could last 20, carved from the arcs of a few choice, timeless phrases, sometimes breathless and blissful, sometimes excruciatingly hurt and frightened, and, at their most powerful moments, navigating a terrifying trajectory between the two.
But I couldn't really subject you to a full-length review of that level of rambling abstraction. I mean, it would be a bit much, wouldn't it. I need to balance all that guff with a straight-up, factual report!
I need to tell you that the Carters both played electric guitars throughout their set, and shiny, expensive-looking ones at that. And that, yes, they sounded incredible – truly, they understand the possibilities for wringing exquisite sounds out of those stringed, plugged in things. I guess the fact they play in some pretty far-out tunings probably helps. Admittedly, I'm entirely musically illiterate, so I could well be talking crap, but the exact composition of their volleys of notes and long, lonesome, ringing tonalities sound notably different from the stuff you usually hear coming from guitars, and there is much frowning over tuner pedals to be done between songs here tonight. And, in another major point of departure from the majority of psychedelic rock, it's notable that those harmless little devices are the pedals most favoured by this band at the moment. Admittedly, Tom does employ some devastating fuzz and wah-wah for the more dramatic / spaced moments, but for the most part, this sound, with all its forays up to heaven and back, relies upon the imaginative interplay of hands, strings, pick-ups and amplifiers. A brave and refreshing decision in this day and age, when even mild-mannered indie-pop bands seem to fall back on tacky wall-to-wall distortion when playing live.
Needless to say, stripped of special FX and additional instruments, the duo's playing is necessarily amazing – it's rare in any kind of music to hear two instruments so completely entwined, to the extent that they finish off each other's phrases like twins or lovers finish off sentences. Although, having said that, it's notable how much Christina downplays her guitar skills in Charalambides (a sampling of her prolific solo work reveals said skills to be formidable). She lets Tom dominate, working his astonishingly expressive Jerry Garcia via Albert Ayler styles throughout whilst she often sticks to just providing slow, minimal bass-string rhythms.
Presumably she is concentrating more on her captainship of the songs, and her voice, as on the new album, takes on a more central role than ever before. Christina's singing is striking and odd. I'm not sure I even like it that much on a purely instinctive level, but I'm glad it's there, adding tension, form and an uncertain, untouchable emotion to the band's music. Rather than the drawling, bluesy vocalisations of, say, Cat Power or Bardo Pond's Isobel Sollenberger, (which to my mind would seem more naturally suited to the music), her voice is sharp, pain-stakingly articulated, cold and hesitant. In places it's almost as if she's trying her best to be 'ethereal', but betraying some kind of tense, neurotic anguish which always creeps in around the edges, jarring violently with the hazy, frozen bliss-time conjured by the guitars in the moments it is given full shape. Back at home, it is this voice which keeps 'Joy Shapes' and 'A Vintage Burden' from creeping into my pile of 'drfiting-off-to-sleep' CDs too often. The guitars might be in love, but the songs are not happy ones.
Also interesting is the way Charalambides songs seem to be fluid entities, expanding, contracting and changing shape as the players see fit, anchored around just a few evasive lyrics and repeated motifs. More experienced veterans of Charalmabides live shows can no doubt set me straight on this if I've got the wrong idea, but it's remarkable tonight that whilst the three most memorable compositions from 'Joy Shapes' are all aired, all seem to be dispatched with in under five minutes, whereas on the album they're pushing 20 each. Similarly, "Two Birds" from 'A Vintage Burden' flies way beyond the confines of the somewhat understated album version, opening up to embrace some of the evening's most heart-stopping guitar crescendos.
Another review approach would be to try to pin-point Charalambides' place in the world in terms of the musical traditions which have informed them or with which they may claim common ground, allowing readers to build a picture of the band's world by proxy. Though much maligned, I feel this is as valid an approach to music writing as any and can touch on some interesting truths if used in a thoughtful fashion and not reduced to off-hand 'X + Y = Z' banalities. But reading back, I reckon I've already chucked in enough outside reference points to get people in the right ball-park, so let's skip this one.
Or if I feel the need, I could even delve into my own emotions, examining how the music of Charalambides related to my preoccupations and troubles, entwined itself within my soul and mind, tweaking, rousing, tugging, confusing, comforting and subduing... well rest assured I don't feel the need – let's skip this one too.
So, inevitably, none of those approaches come near to doing things justice, and I shall waste no more words. All that needs to be said is that Charalambides played, and will continue to play, a music that is old and nameless, new and necessary, that moved things in my heart, moved things in my head, took me inside itself and showed me places that music rarely does.
...
And although I'd imagine your tired eyes have probably had enough Times New Roman for one lifetime after that little exegesis, I'd feel bad if I didn't also find time to mention
Steffan Basho-Junghans
, who also played at the Charalambides gig, and who was truly excellent. A genial, ruddy-faced chap of Scandinavian extraction, Mr. Junghans' work will no doubt be familiar to connoisseurs of post-Takoma instrumental guitar stylings, but it's a new one on me. I'd told (or have possibly just assumed) that he has taken on the middle part of his name in tribute to the late Robbie Basho, and this indeed proves a good reference point, as, generally speaking, Steffan seems to pick up where the former Basho left off, departing from the (relatively) down to earth, blues/riff based stylings of Fahey and Kottke and getting high on altogether thinner air, catching a ride into more spiritual realms and patiently assembling mountainous, modal fantasias from his steel strings. He starts slowly, and I fear loses many of us with a lengthy attempt to evoke a waterfall style drone from repetitive open-string slide-work (I can imagine it working a lot more effectively on record..?), but once he gets going his playing is as devastating and captivating as any of the hallowed adepts of the mysterious art of guitar-picking. His piece 'Last Days of the Dragons' (yes, he introduces his songs, tells us what they're about – something I always appreciate from instrumental performers) is particularly breath-taking. It's always a privilege to witness musicians of this calibre play, and I think, not one which should be taken for granted – a sentiment which applies to both of the performers I've written about in this post.
Comments:
Wow!
That's an incredible review. I wish I could write like that, especially as I've got a Charalambides review to do! Erk!
Ah, thanks Stew!
And I'm sure you CAN write like that... I'm just taking the opportunity to let rip since I've got plentiful free time and no word-count! :-D
Post a Comment
Archives