Tunin' the motor, like a weekend boater
Tuesday, March 28, 2006
Gosh, eccentric musical outsider heroes really are dropping like flies this season..
DEATHBLOG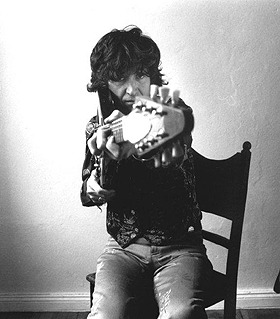 NIKKI SUDDEN

Gentleman Rock n' Roller, late of Swell Maps and the Jacobites.

1957 - 2006
This is stupidly and depressingly uncanny.
LAST FUCKING NIGHT, I stuck on Swell Maps second album 'Swell Maps in Jane from Occupied Europe', which I've owned for a while and never really listened to much, and thought "goddamn, this is incredible! I feel a gignatic Swell Maps revival coming on!"
I confess I'm not as familiar with Mr. Sudden's subsequent career as I perhaps should be, I've always felt that Swell Maps short, storming punky numbers are absolute ramshackle genius of the highest order, to say nothing of their obtuse sense of humour and failure to give a fuck about recording quality, coherence, or much else for that matter.. I have on numerous occasions in the past held up their spirit as a perfect example of everything I'd want my own music to represent.
'Let's Build a Car', 'Let's Buy a Bridge', 'Read about Seymour', 'Cake Shop', 'International Rescue', 'Border Country'.... where would Guided by Voices, Pavement - not to mention Blur - be at without the example of these stunningly demented, geeky little ditties?
So, yeah, R.I.P.
I'd commend you to download a few of the above tracks and get down.
Or read
this eulogy
, which is informative and, er, good.
Archives